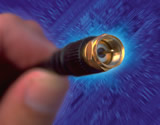 VisioGUARD Enterprise
Video Server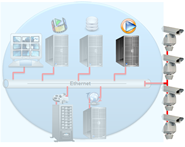 Visio-SERVER is part of VisioGUARD Enterprise. This is an enterprise level distributed video server allowing to combine analog CCTV (video server) and IP cameras (IP server) - the truly hybrid system – to leverage your existing CCTV cameras and infrastructure while migrating to IP cameras.
Visio-SERVER is the combination of multi-tiers, plug & play, object oriented, event based, scalability and open architecture.
Scheduler and task manager
Visio-SERVER includes scheduler and task manager. This is a combinations of scheduler (time), event trigger (conditions) and actions (resulting action).
For instance, a task could be set up such that when an video intrusion is detected on a camera at the back door (using VS-Intrusion) or a door is opened during (using Visio-CONTROLLER) the time from 12 midnight to 6 AM, move the PTZ camera to a preset position (zooming on back door), increase the recording frames per second and send an email to the security chief.
Event Triggers :

Video analytics(VisioSHARP)

Intrusion detection
Fallen person detection
Unattended object detection
Object removal detection
People/Vehicle Tracking

Video motions
Blue screen (camera disconnected)

User Input
Application message

Actions:

Start / Stop Event based recording
Chang recording rate

Active / Inactive Hardware IO

PTZ command action
Viewing layout action

Change viewing layout
Switch the live camera (pop up)

Send an email (with/without attachment  clip/picture)
Sound buzz