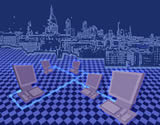 VisioGUARD Enterprise
Site & Service Manager
Visio-SITE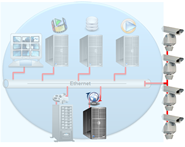 Site & Server Manager run as a service in the background and monitors all servers and services (Visio-SERVER, Visio-RECORDER, Visio-STREAMER, ...) running on the site.
Site & Server Manager offers full control of all networked servers and makes sure all servers uptime and reporting of any issues affecting the servers or cameras. They can be configured to send email alerts to the appropriate individual if anything ususal is happen. It can stop, start or restart all services manually, automatically or based on scheduler.
The service manager is responsible for all services running under the same server (the same computer).

The site manager is the responsible for all servers running on the site (all computers connected to the same network).