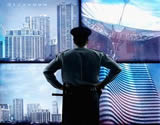 Solutions Overview
Solutions Overview
IVISIOTECH offers a comprehensive range of complete and integrated solutions for public, business and residential property. Using IVP&CE framework, it provides end-to-end and high quality solutions to its customers. By integrating with your current IT environment, IVISIOTECH's solutions offer greater flexibility, scalability and advanced functionality compared with traditional video surveillance and security system – and at a lower cost.
IVISIOTECH is designed to monitor public areas; government buildings; parking lots, electrical utilities; oil and gas refineries and storage; commercial office buildings; hotels; schools and universities; hospitals; industrial plants; warehouses; and transportation terminals.

IVISIOTECH's solutions have been deployed at several complex indoor and outdoor environments such as Parking Lots, Buildings and Corporate.
Today IVISIOTEH provides solutions for:
Government: Increasing security in public areas, militaries facilities, prisons, etc ...
The security of every citizen is a higher priority than ever for national and regional administrations. Governmental bodies and public authorities are employing video surveillance solutions to help fight vandalism, theft, assault and the threat of terrorism.
Transportation: Remotely monitoring of railway stations, subways, highways, and airports.
Surveillance of public area from airports to roads and train stations can give a unique, real-time insight into safety, security and logistics of managing large numbers of people and traffic.
Industry: surveillance of stock and warehouses
In the warehouses video monitoring can improve security and reduce theft and losses, cut damage costs, prevent hazardous situations for employees and allow you to handle security issues more efficently.
Parking Lot: Increasing security and remotely monitoring & control parking lots facilities
Education: Increasing security in schools and other educational establishments.
Financial and Banking Institutions: Increasing security in Banks areas, …
Retail banking is facing increasing safety issues. For both people and assets, safety is increasingly becoming an issue and retail banking needs to deal with this. Whether it's ATM robbery or bank hold ups, safety is becoming a major issue.
Offices / Retails Stores / Process and Manufacturing Industry / etc …
Video surveillance can be used in parallel to monitor the shop's floor space, checkouts and exits on safety and theft.