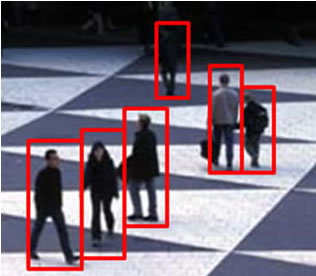 People/Vehicle Tracking

VS-Track plug-in allows to detect, recognize, and track the moving objects such as vehicle and humans in the scene. It keeps the history of the each objects and analysis its behavior.
Applications
Wrong way flow:

detects people going the wrong way in single direction entrance or exit lanes

Traffic violations (one-way streets)

security, access control (airport customs zone)

Loitering – detects people or vehicles loitering near secure or high value areas.

Crowd and Traffic Detection– detects crowd size, queue length and traffic speed for continuous monitoring of overcrowding situations.

Stopped Vehicle – detects vehicles stopped near sensitive areas for a prolonged period.

Illegal parking detection
Bus lane enforcement : Traffic management, traffic enforcement
Minimizes nuisance and false alarms
Using the state of the art Video Analytics Technology, VS-Track allows to suppress the false alarm due to environmental factors such as rain, snow, shadows, reflections, flying birds, and waving trees.  It can distinguish between moving people, car and safe background conditions, such as blowing trees or splashing fountains.
Indoor and Outdoor
All VisioSHARP plug-ins are built based on IVISIOTECH's Visio Adaptive Object Tracking Technology (VAOTT). VAOTT provides an outstanding object tracking module working in both indoor and outdoor environment. It can automatically update the background of the scene and adjust dynamically the scene changes
VAOTT can detect all moving objects in the scene and keep track of all objects properties such as history, speed, position, size, direction, etc.