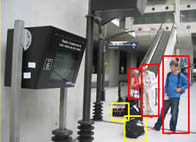 Unattended object detection

VS-Stationary plug-in generate an alarm when an item (package or baggage) is deposited and has been left behind in a controlled area (such as an airport or railway station), this feature is a key component in the timely management of dangerous situations. This functionality can also be used to detect illegal parking, or vehicles staying too long in certain zones, etc.
The user can configure the size range of objects to be detected and the time for which an object has to be stationary in order to raise an alert.
Applications
Airport safety

Building and facility surveillance

Restricted or sensible area surveillance

Left luggage detectionAnti-terrorism

Graffiti and vandalism in public buildings

Parking violations

Illegal parking detection

Traffic management

Congestion detection
Benefits
Protects lives & critical infrastructure
Achieves security objectives with less staff
Improves surveillance effectiveness
Enables informed, proactive decisions
Minimizes nuisance alarms
Minimizes nuisance and false alarms
Using the state of the art Video Analytics Technology, VS-Stationary allows to suppress the false alarm due to environmental factors such as rain, snow, shadows, reflections, flying birds, and waving trees.  It can distinguish between moving people, car and safe background conditions, such as blowing trees or splashing fountains.
Indoor and Outdoor
All VisioSHARP plug-ins are built based on IVISIOTECH's Visio Adaptive Object Tracking Technology (VAOTT). VAOTT provides an outstanding object tracking module working in both indoor and outdoor environment. It can automatically update the background of the scene and adjust dynamically the scene changes