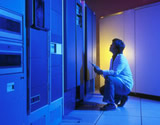 VisioGUARD Enterprise
NVR/DVR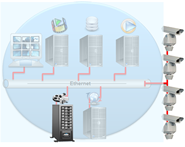 Visio-RECORDER is part of VisioGUARD Enterprise. This is an enterprise level distributed video recording system that can record hundreds of security cameras. It can record high quality and high compressed video format such as MPEG-4 and MJPEG using clustering and high capacity RAID disk.
It works under both Linux and Windows platform.
Visio-RECORDER provides a powerful search tools with a high degree of flexibility along with a user friendly interface.
Its advanced search is designed to deliver the followings capabilities:
Searching over the recorded videos to find particular Events, Alarms or certain properties, e.g. Time, Date, Video Source, etc
Searching over all kind of recorded data, e.g., detected license plates (

VisioLPR

) in parking, status of the parking slots (

VisioSPACE

), and any other kind of record generated by the plug-ins and services in the

IVISIOTECH's

Products.