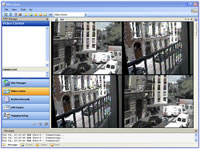 With the massive deployment of surveillance cameras and sensor across multiple sites, Central Management System has become the clear choice for effective control.
VisioMANAGER represents a new generation of Central Management System (CMS) which allows to monitor, control, and manage all cameras and controlled devices.
This event-centric universal CMS can manage unlimited cameras and devices. It integrates seamlessly with VisioGUARD, VisioSHARP, VisioLPR and VisioSPACE.
The system's intuitive GUI makes it easy for one operator to check hundreds of remote cameras and manage them and handle all live alarms (videos/devices).
It provides an instantaneous real-time view of what's happening in local or remote sites.
VisioMANAGER has a powerful map browser which can show the position of the device and camera on the map. It can import JPEG  or vectorial map (emf format) from CAD software like Microsoft Office Visio  and show live view of the camera on the map.
VisioMANAGER includes an Advanced Search system, capable of selecting video and sensor alarms.
VisioMANAGER uses IVISIOTECH's ISVM technology (Intelligent Scalable Video Multicast) to optimize the network bandwidth allowing to adjust dynamically the video compression rate based on the client video quality requirement. Each client can specify the video quality and compression rate.
There is also a light version of VisioMANAGER which provides only the viewing feature of the VisioMANAGER.