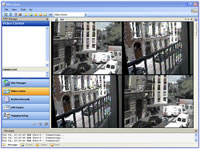 VisioGUARD Pro
VisioGUARD Professional is an professional level Network (IP) or Analog(CCTV) video surveillance system featuring support for up to 32 cameras.
VisioGUARD Professional supports many Network (IP) cameras from major manufacturers, Network (IP) Video servers, as well as any DirectShow compatible devices such as multichannel videograbbers, USB cameras, and camcorders.
VisioGUARD uses IVISIOTECH's ISVM technology (Intelligent Scalable Video Multicast) to optimize the network bandwidth allowing to adjust dynamically the video compression rate based on the client video quality requirement. Each client can specify the video quality and compression rate.
Digital recording is saved directly onto the hard drive(s) of the PC. This is an excellent solution for a  SMB (Small to Medium size Business).
Variations
VG-PRO-IP-VIII
VG-PRO-HB-VIII
VG-PRO-IP-XVI
VG-PRO-DX-XVI
VG-PRO-HB-XVI
VG-PRO-IP-XXXII
VG-PRO-HB-XXXII