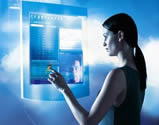 Proactive Surveillance
Proactive Surveillance
The Proactive Security System introduces a higher level of security in public and business environments. It requires fast response to both general criminal threats and terrorist threats.
Proactive security system allows detection and prevention of crime before it happens. It highlights potential threats in real-time and provides appropriate tools for faster response.
Using smart detectors such as intelligent video analytics and device sensor the system can identify threats quickly and alerts security staff immediately. In addition, it can be combined with command & control system to trigger some automatic action immediately. As a result, it allows reacting - in real-time fashion - to potential threats.
Proactive Security Systems provides prevention, intervention and remediation capabilities;
Prevention capability allows detection of unusual behavior. This is a combination of real-time detection using smart detectors such as intelligent video analytics detector and device/sensor detector. It could prevent a potential threat before it happens.
Intervention capability provides tools to intervene immediately when an alarm is generated.  It uses real-time monitoring and real-time alarm handling system to be informed and uses command & control capability to react immediately to a given threat.
Remediation capability is useful for after fact investigation and remediation. It uses advanced search feature to investigate past events.
In addition, by using a collaborative architecture, all devices and sensors can collaborate with each other and share data together. Therefore the system can keep track of people from one room to another, using several identification technologies such as RFID or others sensors, combining fence intrusion detector and PTZ camera, etc.
Using a proactive security system with powerful task manager tool allows to setup the specific security rules like for instance, a task could be set up such that when an intrusion is automatically detected by a camera at the back door or a door is opened during the time from 12 midnight to 6 AM, move the PTZ camera to a preset position (zooming on back door), increase the recording frames per second, lock all doors, and send an email (with video clip attachment) to the security chief.